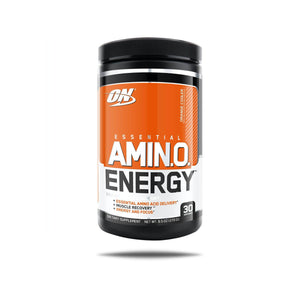 Optimum Nutrition
AMINO ENERGY
Sale price Price $29.99 Regular price
THE GREATEST AMINOS YOU'VE EVER TASTED.
Mix up ESSENTIAL AMIN.O. ENERGY™ anytime you want an amazing, fruit flavored energy boost. Depending on the situation, add a 2-scoop serving to water for an afternoon pick-me-up or increasing the amino acid matrix to 10 grams with a 4-scoop pre-workout drink that delivers 200 mg of caffeine from green coffee and green tea extracts. 5 Grams of Amino Acids, ZERO Sugar, Supports Essential Amino Acid Delivery, Muscle Recovery, Energy and Focus.
DIRECTIONS
Mix two scoops of essential amino energy in 10-12 oz of cold water.