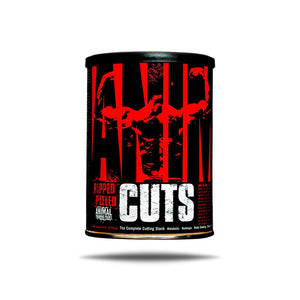 Animal
ANIMAL CUTS
Sale price Price $35.99 Regular price $35.99
TIME TO RELEASE THE ANIMAL FROM ITS CAGE.
Animal Cuts is the complete cutting stack. Ripped & peeled. Thermogenic. Nootropic. Diuretic. Metabolic. Thyroid. Cortisol inhibitors. CCK boosters. Dedicated to serious nutrition for the serious athlete, Animal is your choice when it comes to complete and comprehensive supplementation. Animal, the choice of champions.
What Animal Cut Is: Ripped & peeled. That's what Animal Cuts is all about. When you want to get shredded, a plain old fat burner won't do. Well Animal Cuts ain't a fat burner. It ain't a thermogenic. It ain't a diuretic. Or a metabolic - it's all of these wrapped up into one. Having onion-thin skin is not about just getting rid of the fat, it's also the water. Water is what'll keep you looking soft and puffy, even with a low bodyfat percentage.
So if you're looking for a complete cutting stack, and not just a regular thermogenic, this is your choice - Animal Cuts. Ingredient Notes: Bioperine is Piper nigrum extract standardized for a minimum of 95% piperine alkaloids and is a registered trademark of the Sabinsa Corporation. SerinAid is Phosphatidylserine (soy lecithin) and is a registered trademark of Chemi Nutra.
DIRECTIONS
Take two Animal Cuts packs everyday for three consecutive weeks. Follow a cycleconsisting of three weeks "on" and one week "off". After your one week off cycle, you can repeat another three week on cycle until you reach you goals. Take on an empty stomach.