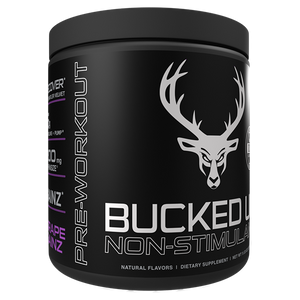 Das Labs
Bucked Up Stim Free
Sale price Price $37.99 Regular price $54.95
BUCKED UP
® NON-STIM pre workout is loaded with scientifically backed ingredients, at clinically effective dosages. Also includes all natural flavoring and no artificial sweeteners or coloring. 
BUCKED UP
® is a game-changer and doesn't use proprietary blends. We have nothing to hide. You won't find ineffective doses of any ingredients in 
BUCKED UP
® because we know that you don't want to pay for a supplement that isn't going to work. 
BUCKED UP
® is effective for serious athletes, bodybuilders, and anyone else looking to up their game. We're not saying everyone should swear to a life of stimulant celibacy -- we love our stimulants just as much as the next caffeine addict -- but there are several factors that could lead you to making the switch, even if temporarily. 
Questions to ask yourself:
 Do you experience regular brain fog each morning? Do you workout at night? Do you have high blood pressure? Are you pregnant? Do you have a low caffeine tolerance? Do you possess an ungodly high tolerance? Do cans of 
BUCKED UP
 Energy act as a second floor in your car? If you answered yes to any one of these questions, then the time to try 
BUCKED UP
 Non-Stim is...well, last month actually. Trying it now will suffice, though. (For more information on why to go caffeine-free, check out our blog!) Benefits You Can Trust
Pump
Focus
Endurance
Hydration
ENERGY.