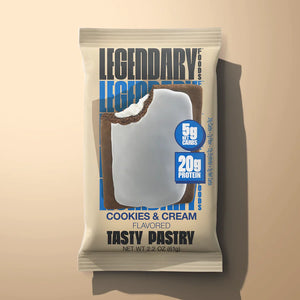 Legendary Foods
COOKIES & CREAM PROTEIN PASTRY
Sale price Price $3.00 Regular price
20g PROTEIN
|
 5g NET CARBS
0g Sugar, 8g fiber, 170 Calories, 7g Fat
Eat your favorite childhood treat, without the sugar.

Lightly microwave or enjoy straight out of the wrapper.
Eat like a kid again with our Cookies & Cream Tasty Pastry! The same amazing taste you loved as a kid - but now with a fraction of the carbs. 
Each pastry has 20g of protein, 170 calories, and just 5g net carbs! Let your childhood taste buds run free and enjoy the guilt-free flavor of these incredible cake-style pastries!

Enjoy it lightly microwaved or straight out of the wrapper. Your Legendary experience awaits.