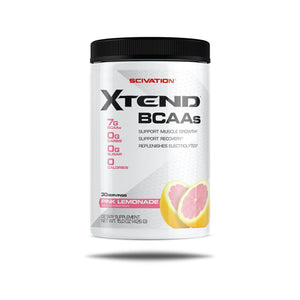 Scivation
EXTEND
Sale price Price $29.99 Regular price $29.99
EXTENDED WORKOUTS REQUIRE XTENDED BCAA'S.
Scivation XTEND is the most advanced BCAA drink mix and is packed with 7 grams of BCAAs, 2.5 grams of L-Glutamine, and 1 gram of Citrulline Malate. Plus, with a unique blend of hydration-inducing electrolytes, Scivation XTEND is a calorie-free way to help anyone grind through even the most grueling gym session. Designed for intra-workout consumption, XTEND BCAA powder is the most advanced product of its kind and helps to facilitate both fat loss and new muscle construction. By orchestrating optimal protein synthesis and by balancing the intracellular energy economy, XTEND seriously shortens recovery time. You just don't feel recovered, you are recovered. With unparalleled mixability, delicious flavors, and an array of ingredients in scientifically-proven amounts, XTEND BCAA powder continues to outpace the competition. Build muscle, burn fat, and prolong the intensity of – and recovery from – your next workout with XTEND!
DIRECTIONS
Mix one serving (one level scoop) of Scivation Xtend™ per 8-10 oz. of water. Stir or shake and consume during exercise on training days, or throughout the day on non-training days.