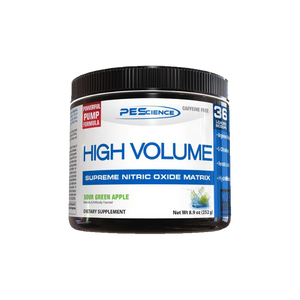 PEScience
High Volume
Sale price Price $35.99 Regular price
This unique formula relies exclusively on fully dosed performance increasing and vasodilating/nitric oxide boosting ingredients to deliver an incredible workout experience with zero filler! Feel the skin-splitting pumps, enhanced endurance, and superior recovery.

Premium nitric oxide boosting – 4 grams of pure l-citrulline (more than twice the amount of common pre-workouts), agmatine sulfate, arginine nitrate, and hydromax glycerol combined

Versatile and stackable – Unique formula allows it to be taken at any time of day or in combination with almost any other product.

Amazing taste and mixability – with over 5 amazing flavors you'll always be able to mix it up while enjoying the same great product.

Third party tested - All PEScience products are produced and stored in a USA cGMP facility.