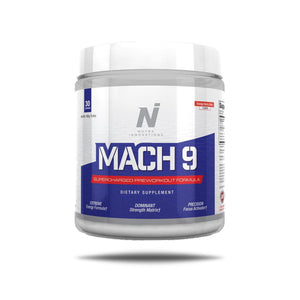 Nutra Innovations
MACH 9
Sale price Price $34.99 Regular price $29.99
Do you feel the need.....the need for a strong stimulant pre-workout that also gives you a crazy amount of focus to smash through your workout? Mach 9 is just that!
If you're looking for a new strong stim pre-workout and want to feel like you're travelling at 9 times the speed of sound with Danger Zone blaring in the background during your workout then put on your aviators and strap in! With a combination of pump, energy and focus this pre-workout is a fantastic all in one and a strong one at that!
DIRECTIONS
Take 1 scoop with 200-300ml of water. We suggest assessing your tolerance by starting with 1⁄2 scoop.