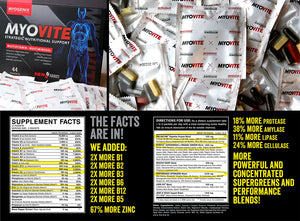 Mr. Nutrition
MyoVites
Sale price Price $39.99 Regular price $42.99
5 reasons you need New & Improved MYOVITE!
New & Improved MYOVITE® is the ultimate foundational supplement and a must have if you value your health and athletic performance. First, let us define the criteria that makes MYOVITE® the most comprehensive vitamin ever created.
1) MYOVITE® IS A "MEGA-DOSE" OF NUTRIENTS
Each packet of MYOVITE® delivers a tremendous level of nutrients for maximum results.
2) MYOVITE® UTILIZES THE MOST EFFICIENT DELIVERY SYSTEMS
MYOVITE® uses the best forms of each individual vitamin and mineral. For example, Albion® Chelated Minerals absorb 2-4x better than regular minerals.
3) MYOVITE® IS EXTREMELY COMPREHENSIVE
MYOVITE® eliminates nutritional gaps in your diet and supplement regimen thereby reducing the risk of underperformance, training plateaus and poor health. MYOVITE® replaces 10 individual bottles of supplements.
a. DIGESTIVE HEALTH
b. JOINT HEALTH
c. HEART HEALTH
d. LIVER & ORGAN HEALTH
e. BRAIN HEALTH
f. ATHLETIC PERFORMANCE
g. IMMUNE HEALTH
4) INGREDIENTS ARE MADE IN THE USA
The majority of ingredients are sourced in the USA. If we can find it locally, we buy it.
5) CONVENIENT PACKETS AND EASY TO SWALLOW
Compare New & Improved MYOVITE® to your current vitamin supplement and you'll realize there is no comparison. Once you try MYOVITE® you'll understand why we call it "The Vitamin You Can Feel!"