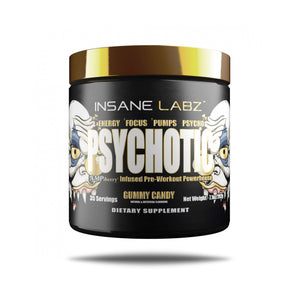 Insane Labz
PSYCHOTIC GOLD
Sale price Price $39.99 Regular price $29.99
THERE'S NOTHING ELSE LIKE IT.
Insane Labz has set the standard once before with Psychotic™?, dominating the pre-workout scene with an impeccable product & pushing the envelope for what the industry standard should be. However, that standard isn't enough for us, we are aiming for something better; the golden standard.With that being said, we are proud to introduce the newest pre-workout powerhouse hailing from the depths of the asylum, Psychotic Gold™?. This is not only an evolution, it's everything Psychotic™? is and more. For those searching for the most elite stimulated pre-training powder, look no further. Experience limitless energy & focus as you decimate your PR's in the gym & feel no bounds from the endurance enhancing formula. Take on your workouts with the new standard; the Psychotic Gold™? standard.
DIRECTIONS
Psychotic Gold is not your normal pre-workout, it's on a whole other level. Assess your tolerance first with a 1/2 scoop and work your way up to a full scoop. Take 20-30 minutes before your workout.