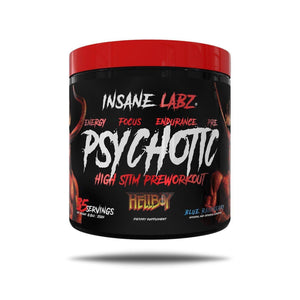 Insane Labz
PSYCHOTIC HELLBOY
Sale price Price $35.99 Regular price $29.99
JUST WHEN YOU THOUGHT IT COULDN'T GET ANY BETTER.
Something NEW has been created in The Asylum and once you've tried it, you'll be blown away! New Psychotic HELLBOY edition offers the great taste and potent energy that you're used to – in a LONGER lasting, FASTER hitting formula suitable for the darkest hero that lives within you. Unleash Psychotic HELLBOY on your workout – and smash things today!Are you a fan of Insane Labz Psychotic or just strong pre-workouts in general? Beacuse if so, Insane Labz has a brand new Psychotic pre-workout for you to try. Insane Labz Psychotic Hellboy Edition is this new pre-workout variety from Insane Labz and it is an even longer-lasting and faster-acting version of the original Insane Labz Psychotic. In fact, Insane Labz Psychotic Hellboy contains more active ingredients than their previous Psychotic, making it the choice if you want a high-stim premium pre-workout that's even better than it was before! Specifically, Psychotic Hellboy contains Beta-Alanine and caffeine to give you that pumped up feeling and to also help you endure your toughest workouts. This high-stim formula is carried over, but unlike the original Psychotic, Psychotic Hellboy is creatine free! So if you have any issues with creatine, this pre-workout is the answer for you! And with three classic and delicious flavors, you can't go wrong with Insane Labz Psychotic Hellboy! Order it today and see the difference for yourself!
DIRECTIONS
Psychotic Hellboy is not your normal pre-workout. Begin with 1/2 scoop to assess tolerance.