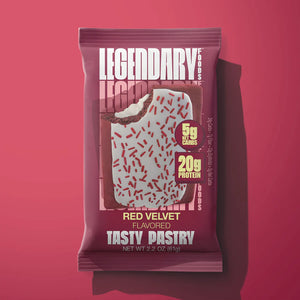 Mr. Nutrition
RED VELVET PROTEIN PASTRY
Sale price Price $3.00 Regular price
20g PROTEIN
|
 5g NET CARBS
<1g Sugar, 8g fiber, 170 Calories, 7g Fat
Eat your favorite childhood treat, without the sugar.

Lightly microwave or enjoy straight out of the wrapper.
Meet the newest star of the Legendary Foods lineup: Red Velvet! Each pastry has 20g of protein, 170 calories, and just 5g net carbs. And the award for best snacking choice goes to YOU.
Our recipe combines an incredible nutrition profile with Legendary flavor to create the perfect guilt-free snack. It's everything you want out of a low carb, protein-packed snack - all with the impossibly delicious flavor you've come to expect from Legendary Foods.
Your Legendary experience awaits.