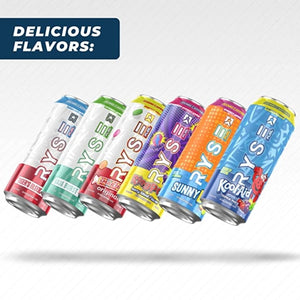 Ryse
Ryse Fuel Energy Drink
Sale price Price $28.50 Regular price $32.00
✔️ ON THE GO ENERGY: RYSE Fuel combines the perfect amount of clean, all-day energy from natural caffeine combined with an efficacious dose of focus & flow enhancing ingredients to deliver an incredible energy experience. Finish that off with a blast of delicious flavors & you'll see why we call this magic in a can!
 ✔️ INTENSE FOCUS AND ENERGY: We have boosted our RYSE Fuel energy drinks with 500mg of Choline Bitartrate and 500mg of Taurine for improved mental and physical performance, intense focus, and enhanced cognitive function. 
✔️ FROM CLEAN INGREDIENTS: Our RYSE Fuel RTD Pre-Workout drinks are made with 200 mg of natural caffeine for a clean source of energy any time of the day. You also won't find any sugars or calories in our Fuel drinks, so you can get your boost of energy guilt-free, all without compromising flavor! 
✔️ PREMIUM INGREDIENTS ONLY: RYSE takes a unique approach to the lineup, utilizing the latest science and ingredients backed by clinical evidence. Not only do we use the best patented ingredients that are backed by research, we TEST multiple times. You'll always get what the label says and only use the highest quality ingredients, many are patented. 
✔️ AUTHENTIC SIGNATURE FLAVORS: RYSE Fuel comes in 6 amazing and unique flavors that will satisfy anyone's taste buds. Along with our fruity Tiger's Blood and citrusy Baja Burst, we have collaborated with Smarties, Sunny D, Ring Pop, and Kool Aid to bring you the most authentic version of some of the best flavors from your childhood!